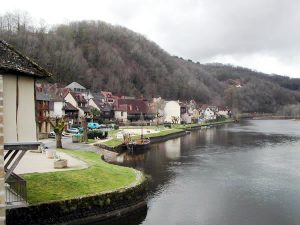 Welcome to Le Petit Chat and to our charming Medieval Abbey town, Beaulieu sur Dordogne. By many claimed to be the most beautiful town in the upper Dordogne valley.
Beaulieu is situated in the middle of France, in the department of Correze, alongside the Dordogne River and is a pulsating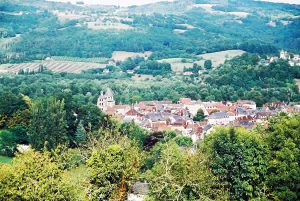 medieval town surrounded by charming little villages.
Outdoor Activities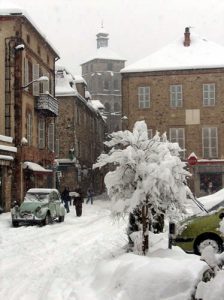 The area is ideal for an active holiday with activities like bicycling, walking, swimming, canoing, golf and horseback riding.
Exploring the Area
It is an ideal spot to use a base for further away, like Rocomandour (30 minute drive) Cahors (2 hour drive), Sarlat de Caneda (2 hour drive), the wine areas of both Cahors and Bergerac (easy day trips).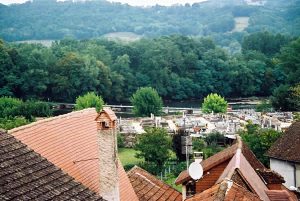 Our Rooms
Le Petit Chat offers three rooms Bed and Breakfast style. The rooms were renovated in 2005, but have kept much of the original charm. All the rooms have private bathrooms, two have kitchenettes
check-in and check-out
We ask for check-in after 4:30 pm and check-out latest at 11:00 am.
Animals
We accept small animals but contact us in advance please.
We speak English, French, German and Norwegian.
Accommodation
All our rooms are spacious, and have king size beds. All the rooms have space for an extra bed.
Prices
Our prices range from 52€ in the low season to 60€ in the high season for 1 person, and from 50€ to 73€ for two, extra bed is 20€, including breakfast and tourist tax.
The Blue Room
It has stonewalls with wooden beams, and an old wooden floor. The bathroom is large with a shower and blue tiles. The view is stunning with the hilly countryside and the Dordogne.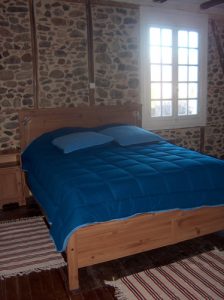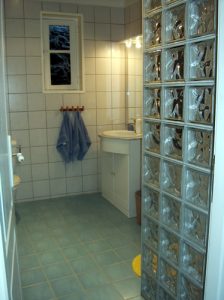 The Green Room
It also has stonewalls with wooden beams, and an old wooden floor. The bathroom is once again with a shower and green tiles. The green room has a kitchenette and view on the chapel by the river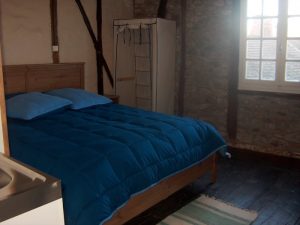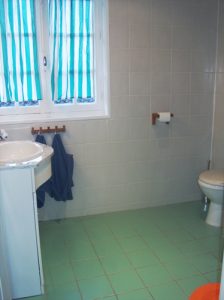 The Yellow Room
Like the two others, it has a parquet floor and stonewalls with wooden beams. It also has a kitchenette and a huge bathroom with a bathtub and yellow tiles. The view is facing the town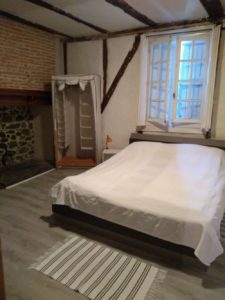 Our breakfast
We serve a French breakfast, with a twist.
We charge a 20% deposit at the time of your booking. We accept French checks, International money orders, cash or direct payment to French or Norwegian bank accounts.
Payment with credit card possible via PayPal (Payment through internet)
Tourist Information and Links
If you have not been to the region, you can roughly say that Beaulieu sur Dordogne lies in the middle of France. If you are familiar with the Dordogne region, the Department of Correze is just a bit further up-river.
Interesting Places to Visit
Beaulieu has many interesting sites close by, and is an easy daytrip away from the wine areas of both Cahors and Bergerac.
In Corrèze :
Collonge-la-Rouge 21km 20mn
Aubazine, its abbey and monk canal
Travassac and its spectacular slate mines
Gimel adn its waterfalls
Turenne 29km 30mn
In Lot :
Rocamadour 42km 30mn
Lurçat's workshop-museum (St-Laurent-les-Tours) 17km 20mn
Castelnau castle – Bretenoux 8,5km 10mn
Presque caves 18km 20mn
Padirac abyss 28km 30mn
Cahors and it's vineyards 125km 1h30
And also:
Lascaux caves
Vézère valley (classed on the Lists of Intangible Cultural Heritage by the UNESCO) 96km 1h30
Sarlat-la-Canéda 74km 1h30
Bergerac 164km 2h
White Périgord (Périgueux) 122km 1h40
Wine Regions
Wine regions of Cahors 125 km / 11/2 hours
Wine regions of Bergerac 164 km / 2 hours
The valley of Vezere (cradle of European human history) 96 km / 11/2 hours
Outdoor Activities
Swimming, canoeing, golf, horse riding and tennis – all within a short distance from Beaulieu. If you decide to visit during the winter, the skis lopes of Massive Central are only a couple of hours away.
Links
Beaulieu-sur-dordogne, tourist office,The Mairie
Airlines
Ryan Air (Various British airports, Limoges is closest to us)
Norwegian air (Oslo – Bordeaux or Paris)
Brussel Air (Oslo – Toulouse)
Address :
GPS coordinate:
Latitude : 44.980696 | Longitude : 1.836612
19, rue de la chapelle, 19120, Beaulieu sur Dordogne, France.
Contact us
For more informations about Le Petit Chat, please complet this form.
If you have any special enquiries, you can contact us and we will try to help you.
Email: 
Phone:  0033 (0)682 343 858